Everyone who follows Formula 1 on Twitter must have dreamt of going to a live race and of the non-classic tracks, Singapore must be one of the most popular choices for most fans.
Jacqui and her friends made the trip to Singapore this year and from their photos, they had maximum access to all aspects of the race weekend and drivers. Jacqui has agreed to share her Singapore Fling experience with fellow fans.
What was your budget and how long in advance did you book flights and accomodation?
Our budget was AUD $10k (£6k) per person for flights, accommodation & race tickets which also included the entertainment – but we were in Singapore for 2 weeks. Singapore is one of the most expensive races on the F1 calendar so you need to have a decent budget
On arrival, how were the locals and temperature?
The locals are very friendly & willing to help. Everyone speaks English so it's easy to communicate. The temperature is about 27° day & night. The humidity is about 90°. There's a little bit of relief in the evenings when the sun goes down, but it's still very humid. Don't bother packing jackets…you won't need them. It was ALWAYS hot. You were allowed to take water bottles in & there are filling stations around the circuit.
Food-wise – there was a fantastic variety. I don't eat Asian food but I didn't starve over there. Lots of Western food choices in the city – pizza, pasta, sandwiches, cakes, donuts, ice cream…. All available!! I don't consume dairy but that was ok too because most places make soy milkshakes/coffee.
How easy was it to get from track to hotel?
If you stay in the Central Business District (CBD) you're pretty much on the track already or only a 5 minute walk away. If you chose to stay our of the CDB you can get to the track on the Metro & it's never packed. It costs a couple of dollars each way & even the taxis are cheap. Lots of cabs around so you'll never have an issue getting home.
While you watched Qualifying and the race, amongst whom did you sit?
I was in Corporate hospitality for this race & it was 40/60 (40% locals & 60% international) I think this was the general consensus around the track. Our view was fantastic but you don't need Corp hospitality or even a Grandstand seat for a great view. Singapore's General Admission (GA) ticket holders get fantastic close-up action from most parts of the track. I walked through GA during FP2 & put my arm out. If it were double the length I would have touched the cars as they raced by (but that'd be dangerous!)
 Also, we had 2 screens in our area. No FanVision this year but I hear they're trying to re-negotiate for next yr.
Did you "invade the track" after the race?
You could get onto the grid for the celebrations, but they kicked everyone out after an hour. We hung around & waited for the drivers to leave so we could get their autographs/pictures as they left the circuit. Most fans go to the concerts so it's a great opportunity to meet your fave F1 personality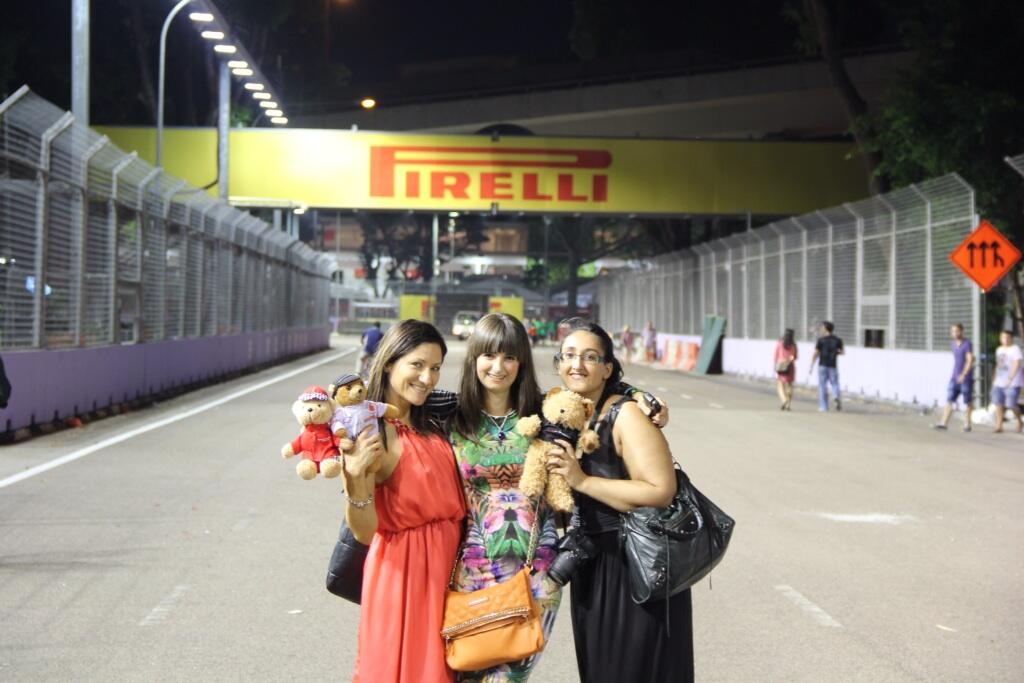 Which cars impressed you the most? Did you meet any drivers?
McLaren always impress me. Yes, we met every driver at least twice over the week. If you're prepared to stake out the paddock entry & local hotels, you will meet every F1 personality
Internet/Tweeting: Best way to tweet while over there
We all bought SingTel SIM cards which gave us 3G & 4G everywhere we went so it was easy to keep in touch
Was this your first GP, Would you recommend this event to others?
It was my 22nd GP but only my 1st Singapore GP. I highly recommend it to everyone. The night life is fantastic & if you really want to meet your fave driver, it's not that hard!!
Thanks to Jacqui for answering these questions about SingaporeGP. You can follow her on Twitter @jacqui_and_west